History of Crediton Town Band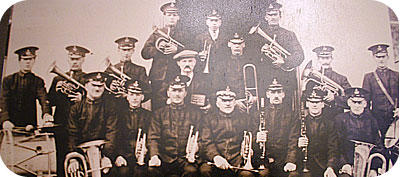 There has been a town band in Crediton since 1867 (or maybe even earlier since the last photo at the bottom of this page is credited as being taken in 1862) but in these early years its fortunes were somewhat sporadic. Although the band experienced a great revival in the 1930s, when it became the tradition for the band to play at the April Great Market when drovers brought their cattle into the High Street for sale, it lapsed again in 1953.

Thirty years later in 1983 a community play "Today of all days" was held in Crediton requiring a small marching band.  Eight players were found and after the play they decided to continue as a group and in March 1984 the first inaugural meeting to revive the band took place.  Appeals to local clubs and business people for interest free loans enabled some second-hand instruments to be purchased.  Other instruments were borrowed from local bands and music obtained in a similar way.

The first public appearance of the band "Crediton Community Brass" was at the Crediton Carnival in 1984, supported by clubs, businesses and an interest-free loan from the town council.  In 1985 the band performed at a joint concert with the Crediton Operatic Society and it was at this event that a set of uniforms was worn for the first time.  At the beginning of 2005 the uniform was updated with a new colour scheme and the band decided to adopt the Crediton Town colours wearing jackets of black and gold.
In May 2006 the band played the first public performance of "The Crediton Craftsman", written for the band by Cornish composer Goff Richards in memory of Ron Hamlin, a long time member of the band.
In May 2014 at our Spring Concert the band played a new march titled "Black and Gold" written for the Band by long standing member and solo horn player - John Glanfield.  The main theme of the march is based on the old school song familiar to many in the town who had attended Queen Elizabeth's Grammar school in Crediton.
In December 2016 the band hosted the first Crediton Community Carol Sing, helped by other local organisations to fill the town square with people and music while raising money for a local charity.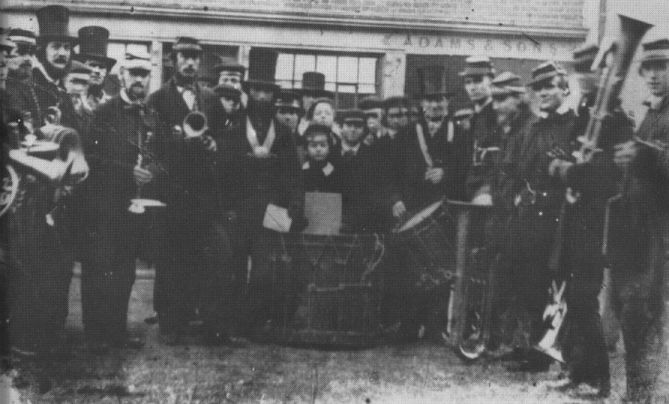 Since the reformation of the band, the band has played at some prestigous venues in this country and in France, Belgium, Holland and Germany.
Listed below are some of the places the band has played at, outside Devon:
Avranches, Franc

Bleinham Palace

Calais, France

Cann, France

Cochem, Germany

The Cutty Sark, Greenwich

Disneyland, Paris

Dokkum, Netherlands

Kempton Park Races

Longleat House

Rüdesheim am Rhein, Germany

Saint-Lô France

Sandringham

St James Park, London

Waddesdon Manor, Buckinghamshire